Farm Land for Sale in India
Hello Folks, at a time when the global economy is slow and stock markets remain volatile, here is a solid investment opportunity that can give both annual income and capital appreciation.
A reliable agri-company in our network has arranged 500 acres of farm land in India from only Rs 1.95 lakh/acre (very attractive land price and offer available only  till land supply lasts).
The company is founded and run by professionals with IIT/IIM background with international business experience, who are using their professional management experience in the area of farming and land development, which can give better returns than other investments.
The company has about 800 acres under management, with 300 acres more in pipeline.
All these farm lands have appreciated more than 200% in last 5 years, and have been the best investment in our portfolio.
The lands are in central India (contact for exact location details), where the company has a strong presence and experience in organized farming. Investors from different locations have already bought these farms, because the farming operations are managed by the company. So your location does not matter.
These well managed farm lands will give you tax free income, while giving steady capital appreciation. The farm lands have potential to grow 25% per annum over next 5-10 years, going by how land prices in India have increased in the past, and the demand-supply gap for food products in India due to increasing population and rising income levels but lagging agri production, and lack of large scale organized farming.
Therefore, many professionals and investors have already invested in farm land using this opportunity because the company is offering "managed farm land" at attractive prices.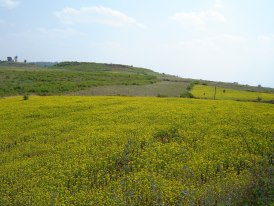 After all previous farm lands got sold out recently, new farm land of 300 acres have been arranged.  Of these 300 acres, about 110 acres have been booked/sold already
Farm Land Prices (as of  26 Jan 2013)
Rs 1.95 lakh per acre — 200 acres arranged (60 acres booked/sold)
Rs 2.95 lakh per acre — 100 acres arranged (50 acres booked/sold)
Benefits:
All lands are good agriculture land for sale in India, and have been checked for soil quality.
All lands have been selected based on their strong potential to generate agri income, and appreciate steadily in the coming years.
Next Steps:
If you are interested, please submit your inquiry using the comment form below. Please include your correct email id and phone number. We will email you back with all the details, and you can then speak with the company's representatives and also visit the farm lands as part of the land purchase/ registration process.
Posted: January 26th, 2013 under India Real Estate Investments, India Real Estate Opportunities, India Real Estate Prices, Property for Sale.
Comments: 89
Comments